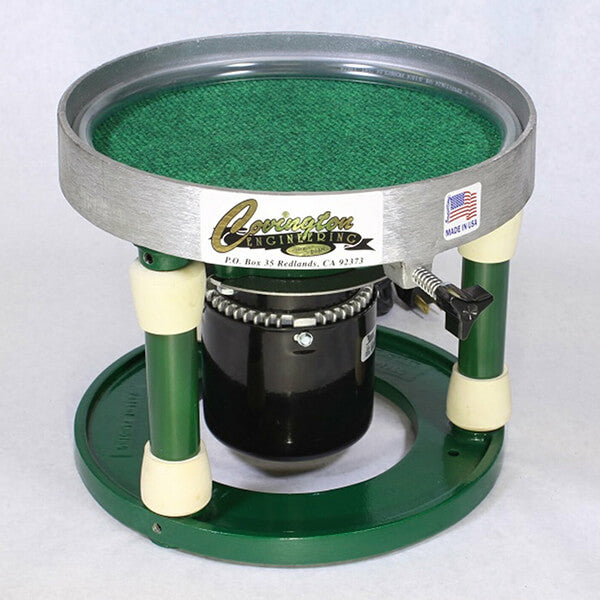 Covington Vibra Lap
Save up to

$0.00
Save

$-540.00
Original price
$540.00
-
Original price
$725.00
Covington's Vibrating Laps are designed to abrade and polish with minimal assistance. Forget all the work involved in lapping; with the vibrating lap, just load, start, and walk away. The inertia of the heavy rock slab holds the piece relatively still while the lap pan vibrates underneath. This effectively replaces the circular rotation used by conventional lapping machines. Units ship complete with plate, bumper ring, polish pad, instructions, safety demands and product guarantee.
10"
Covington's 10" Vibrating Lap is the perfect countertop sized model for working small, jewelry-sized pieces of glass and stone. Filling the pan 1/2 to 3/4 full ensures maximum plate surface is used while grinding the pieces in the most efficient manner.
12"
The 12" Vibra Lap is similar to the 10" size but has an extra two inches in plate diameter. This allows the user to lap slightly larger pieces or several smaller pieces at a time.
16"
Covington's 16" Automatic Vibrating Lap is the most popular size model. This unit is the perfect size for a tabletop or workbench. The 16" size will accommodate larger pieces or more small pieces. Complete this unit and have it running immediately with a Lapping Grit Kit!
Features
Grooved plate surface promotes faster cut
Removable pan for easy cleaning
Single tri-knob screw releases pan
Pad insert provides polishing capabilities
Light weight for easy mobility and storage
Runs quietly
Mounting holes for securing unit to work area
Heavy duty cast aluminum construction
Bumper ring helps prevent fracturing