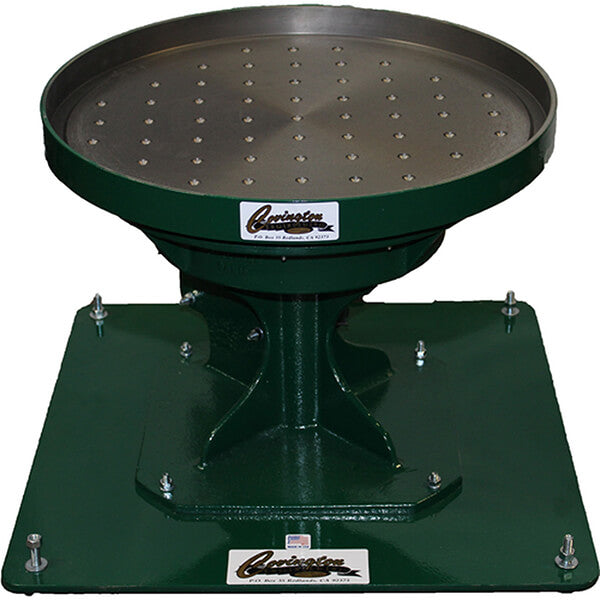 Covington Rociprolap
Save up to

$0.00
Save

$-2,950.00
Original price
$2,950.00
-
Original price
$4,500.00
Covington's Rociprolap® is a precision-built machine designed to eliminate the labor-intensive work of lapping and polishing. The lap plate revolves slowly and reciprocates 575 times per minute. It is balanced and does not need to be bolted down. This unit is extremely quiet in operation and built to last for generations. This heavy-duty machine is constructed entirely of cast iron and steel. The lap plate's surface is machined flat to a very close tolerance. The lap plate also has 1/2" x 3/16" pockets to maintain fresh grit and lubrication reservoirs. The Rociprolap® will grind rock, wood, metal, glass, and any other material which must be flat. Each unit is sold complete with a splash guard, bumper ring, motor, one set of twelve (12) nylon ball bearings, one set of six (6) steel discs, polish pad, instructions, safety demands and guarantee. Covington Engineering guarantees the machines for one year from the date of purchase against any defects. *The warranty excludes the nylon ball bearings, steel discs, and leveling feet as they are consumable items and designed to wear out to prevent more significant damage to the unit.
20"
The 20" Rociprolap is Covington's most compact Rociprolap® unit. The 20" plate sits on twelve nylon ball bearings that allow for a smooth cushioned roll. This unit can hold up to 125 pounds. The pan alone weighs 50 pounds.
24"
The 24" Rociprolap® is Covington's most popular size unit. Capable of holding up to 175 pounds, this unit is ideal for small shops and large studios alike. The pan weighs 70 pounds and is easily manageable.
30"
Our 30" unit is a great choice when you're working a heavy piece. This unit can lap up to 225 pounds. The 30" model is big enough for large projects but still small enough to be transportable. The pan weighs in at 160 pounds.
36"
The 36" Rociprolap® is Covington's largest and most heavy-duty unit. Capable of holding up to 275 pounds, this unit can accommodate the largest of lapping needs. Pair with a Jumbo Grit Kit to get your unit working! The pan alone weighs 220 pounds.
Features
Heavy-duty cast-iron base and lap plate
Heavy-duty sealed ball bearings
Now with 1/2hp motor
Runs quietly
Must ship freight, call for a shipping quote
Splash guard, bumper ring & polish pad
Nylon ball bearings and steel discs
220V, 50Hz available for international orders
We no longer charge a crating fee!